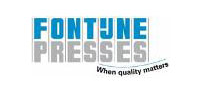 GP Industry Support represents the Fontijne Presses company on Polish Market within the range of laboratory presses.
For over 80 years, Fontijne Presses' hydraulic laboratory Platen Presses have been used in the polymer processing, rubber, and composites industry. The presses are utilized as sample preparation equipment and small production processes for: Quality Control, Research and Materials development.
Series of hydraulic presses in the range of 50 up to 1000 kN are offered. The presses can be either manually operated with cold press platens where only press force is needed, up to fully automatic versions, PC-controlled and with process monitoring with press platens heated to 450°C.
Fontijne Presses offers:
LabEcon series: for basic pressing operations (possibility of heating up-to 300°C) (see video)
LabPro series: for customer specific applications (possibility of heating up-to 450°C) (see video)
Design elements:
the press frame provides an ergonomic mode of operation because of the 2 columns press frame,
the Press Platens are equipped with electrical cartridge heating elements and cooling channels, which make it possible to heat-up and cool down the product,
the newly designed platens guarantee an accurate temperature distribution over the platen surface,
the hydraulic unit with dual integrated pumps ensure fast closing and accurate pressing and adjust the pressure automatically to maintain a stable press force on the sample product.
More information can be found on the manufacturer's website: http://www.fontijnepresses.com/contact