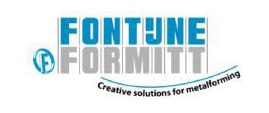 GP Industry Support in 2012 signed an agency agreement with the Fontijne Grotnes company to represent it on an exclusive basis on Polish Market.
Fontijne Formitt
Fontijne Grotnes-in 2013 purchased the patents for the production of machines for spinning method and formed a new line of business: Fontijne Formitt. Spinning technology is used, among others, for any type of tubular construction, e.g. for exhaust catalytic converters for gas and diesel engines.
Spinning machines Fintijne offers, in addition to basic coaxial necking, have the ability to perform Eccentric & Oblique Spinning on such forms as:
straight pipe,
triangular,
trapezoidal,
or oval.
The worked shape is static during processing and set of the forming rolls revolve around the outer surface, which allow to obtain such unusual and complex shapes.
A feature of thus obtained product, beyond the undoubted improvement in appearance, has got not only improved corrosion resistance, but also brings substantial savings from eliminating the need for endings stamping and welding.
Adaptive Gap Control
The measurement of the interaction between a mat and a cartridge packed catalyst.
AGC allows precise selection of persistent pressure between the shell and the mat to avoid damage to the substrate. The cartridge is wrapped in a mat and placed in the measurement system, which calculates the optimal compressive force for each cartridge. The patented AGC system provides a means to collect the diameter and shape values of the substrate including the mat as an assembly, and then selects a suitable compression sequence for optimized holding force. Each shell is formed of a catalyst to the calculated nominal diameter.
Sizing station
This station is capable of automatically reducing the converter shells to single or multiple variable target diameters (determined during the AGC process of the individual wrapped substrates).
There are two options here:
rotary Sizing Technology uses a radial roller based sizing technique that minimizes sizing tool contact on the shell (reducing stress to the substrate and support mat) while eliminating the costs associated with multiple tools for different length substrates. Additionally, the reduction carried out with the rotary Sizer reduces the amount of 'spring back' that is generally found with other shell reduction methods,
the hydraulically actuated barrel sizer uses a reverse wedge system to radially close the segmented tooling. The barrel sizer can be manually loaded or equipped with a servo controlled load/unload system.
More information can be found on the manufacturer's website: http://www.fontijnegrotnes.com/product/tube-spinning-technologies/